Phoenix Shredding & Record Storage will get a secure mobile shredding truck dispatched to your location. It is the convenience of shredding right at your curbside. A shredding truck is totally self-contained and can operate without any outside power source. The industrial shredder it houses will shred in an hour what it would take you a month to do with a normal office shredder.
If you prefer to watch your documents being shred, then on-site mobile shredding solutions are for you – shredding trucks are configured so that you can watch the shredding process from full sheet to bits.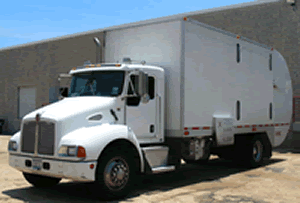 In less than 15 minutes, these trucks can typically perform any typical office shredding purge, from one box to one hundred boxes.
If your Phoenix-based business requires regular monthly service then locked shred bins can be placed throughout your Arizona office. Employees just slide in the paper allowing it to remain protected until it is shredded. Multiple bins around the office prevent the loss off important documents in the trash bin. This stops dumpster divers from accessing your client's information.
How On Site Shredding Works in Phoenix, AZ
STEP 1: Materials are collected in 64-gallon bins.
STEP 2: Materials are shredded and compacted into a sealed compartment in the back of the truck. You can witness the process if desired.
STEP 3: Certificate of destruction is provided based on your volume.
STEP 4: Shredded and compacted materials are recycled.
Get Free Quotes on Mobile Shredding Services in the Phoenix Metro Area
To learn more about our on-site shredding services, just give Phoenix Shredding & Record Storage a call at (602) 325-0006, or request a free quote today!